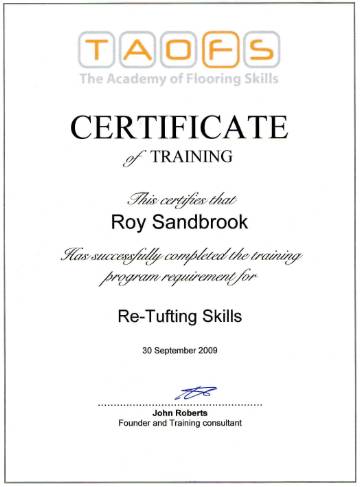 Carpet Doctor Roy is dedicated to provide a professional carpet repairing service and is highly motivated by customer satisfaction.
Operating from Tamworth Staffordshire, Carpet Doctor Roy is ideally based in a central location in the Midlands and travels Nationwide to provide a professional carpet repairing service as a main occupation. Established 1997, Carpet Doctor Roy is a trained specialist in the world of carpets and an expert in carpet repairs, studying advanced carpet repairing and fitting skills at Kidderminster college ( NICF ) Approved by The Academy of Flooring Skills - T.A.O.F.S
Carpet Doctor is delighted to also offer a wide range of hard wearing carpets to choose from in the comfort of your home. Just ask about our choose at home mobile pattern book and free measuring service by an expert carpet fitter.
Carpet Doctor Roy is proud to offer a cost effective speedy, efficient and fully mobile carpet repair service for a variety of damaged carpets at home including a burnt carpet repair caused by a hot iron falling from the ironing board or carpet repair in threshold where the cat has found a loosed thread to play with and pulling at the carpets or a dog chewing tufts of carpet yarn from the bottom of the staircase.The Carpet Doctor works van carries a wide range of carpet samples and accessories including underlay, gripper rods and profile door trims for that perfect installation. Carpet Doctor uses only professional tools and materials for a high class carpet repairing service.
For a small carpet repair such as a cigarette burn or coal burn, Carpet Doctor can provide a professional re-tufting service. Tufts of yarn can be carefully plucked from the edges of the carpet and re-tufted into the damaged area. Assuring you of a perfect colour match and a professional invisible repair.
For a match and patch carpet repair, a piece of carpet can sometimes be found inside a void area. If a donor carpet can not be found to match the patch repair, Carpet Doctor can provide a swatch of carpet from a selection of carpet samples on the works van for the perfect carpet patching repair service.
This is what you are saying about us..
" I searched for a carpet repair near me and found Carpet Doctor. " Mrs Atkinson. Birmingham.
" Roy is fantastic and very professional. He had carpet repaired in no time at all." Sharon Pearce.
" My dog chewed our carpet up which was patternened and would have needed a replacement. However, Roy was very clever and a managed to match it and repair it. Very pleased with the repair done, saved us a ton of money and time. Roy is a nice chap to talk to as well, thank you Roy!" Luke James
" Roy did a fantastic job you cant even tell that the carpet has been repaired thank you so much.
Very friendly and reliable service would recommend Carpet Doctor to anyone." Gareth Moore
Welcome to The Award Winning Carpet Doctor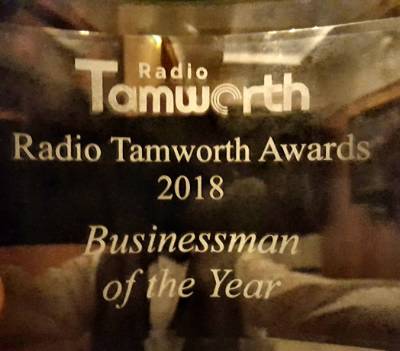 Carpet Doctor is truly honoured to win the Businessman of the Year award at the Radio Tamworth awards ceremony held at Drayton Manor in Tamworth.
The award was presented to Roy Sandbrook by popular TV & Radio personalities Paul Ross and Alex Farrell.
" Wow, thank you. I am deeply humbled to receive this award for Businessman of the Year "
Roy Sandbrook. Carpet Doctor.
Click the links below for more interesting carpet repairing blogs and videos.
https://tinyurl.com/y2pwndu8
https://youtu.be/q_xzdHJf6H0